As I've told you guys on many occasions, I'm very much an introvert and I rarely put myself in the position of entertaining people. It's completely exhausting to me! For some reason, it only seems to be getting worse too. But on those rare occasions it happens, I like everything to look decent to the naked eye coming in. Meaning, I like to appear like I've got it all together!
My sister-in-law's a fabulous entertainer, as well as a few of my friends, so I've gotten to see up close and personal what they do to keep everything running smoothly. It's mostly an appearance thing, you guys..the right pictures out, interesting things lying about as good conversation starters..that kind of stuff. And I can dig it! This has actually made me more confident to take on that next hostess gig.
*This post may contain affiliate links for products I love, so if you make a purchase through one of these, I'll earn a commission at no extra cost to you. For my full disclaimer, please click here.
Not only does the person who's entertaining require a mirror, to check how they look throughout the event, but it's also necessary for the guests, who are sure to be taking a few selfies. The fact that this elegant mirror comes with a matching picture frame, is even better! It adds the perfect touch of sophistication.
First of all you guys, good conversation starters are a must when entertaining. This beautiful recipe box you can personalize, gives you just that! And it's also a neat little thing to pass down to your children someday.

Chalkboard Recipe Card Box
Tea Party Entertaining
This coffee cup set is made with fine bone china, and it's ideal for serving snacks that are accompanying tea or coffee. The set will also freshen up any tea or birthday party.
A beautiful stitch on your table runner is definitely something that stands out at a dinner party. Because, of course, it's where a good portion of the entertaining gets done.
No doubt, you'll want a good selection of wine! And this metal wine stand racks up to 28 bottles, so you can display a variety of them. Another piece of perfection!

Metal Wine Rack Wine Stand for 28 Bottles
Of course, you'll need a really cute apron, for while you're busy getting the meal ready to serve your guests. I've never been a big apron wearer, though my husband did get me an awesome Dallas Cowboys one – minutes before I found out that we were pregnant with Jocelynn. (I think he was really getting me that for some frisky play, if we're being truthful.) Anyway, I'd totally wear this cute apron to do some entertaining in though!
These unique candle holders have a high-class design, and they're virtually impossible to cause damage to. They'll set the mood perfectly, depending on the occasion.

Uttermost Tamaki Silver Candle Holders in Metallic Silver
Sweet and salty munchies are ideal for movie nights, family gatherings, holidays..or really, anytime. This tray includes: Almonds, English Toffee, European Chocolate Mix, Pistachios, and Chocolate Cherries. You'll look like an entertaining pro!

Sweet and Savory Snack Tray
Chopping up your veggies on this antibacterial cutting board will be a must! The last thing you want to happen is having one of your guests get food poisoning. Plus, it's really light and trendy-looking!
Fun to Entertain
Big Dot of Happiness specializes in making any of life's occasions fun! As they should be. Check out their great selection of party supplies for your next event. Your guests will love the funny wine bottle labels that come in a set of 4! They'll be the hit of any event your entertaining for.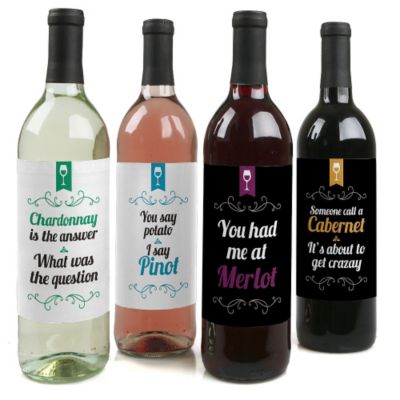 Wine Not? – Funny Wine Bottle Labels – Set of 4
from: Big Dot of Happiness
Finally, you'll obviously want to have a sophisticated looking bouquet of flowers set out. There's something so inviting about a fresh floral arrangement anytime I go to someone's house. I'm rather fond of a cream color bouquet, but Blooms By The Box let's you shop by the type of flowers or even the shade of color you want them to have. Happy entertaining!
I hope these ideas inspire you to go entertain your rear-end off. Who knows when the next time I'll be taking this on, but I guarantee I'll be looking for a cute little apron when that time comes!
What's 2018 been like for you so far? Anything big coming up? I'd love to read your comments! Coming soon, I'll be showing you some awesome things for the people who devote their free time to reading. Until then…God bless! XOXOXO ~ Jenn